The stage is set for a mega telecom spectrum auction starting March 4, the first under the new government, whereby it expects to earn revenues to the tune of Rs 1 lakh crore.
Dispelling fears of the telecom industry, Minister for IT and Communications Ravi Shankar Prasad says there is no spectrum shortage as projected by some and there will be more auctions in future.

In an interview with Mansi Taneja, Prasad talks about bringing back the confidence in the department of telecom, which was hit by scams during the previous regime, and fast-tracking decision-making and revival of PSUs BSNL and MTNL over the next two-three years.

Edited excerpts:
The industry is not happy with the government's decision of auctioning only 5 MHz in the 2,100-MHz band and the high reserve price for spectrum. How do you react to this and when can we expect another round of auction?
Currently, there is a campaign going around as if there is a big spectrum scarcity, but there is none. This (the one in March) is the not the last auction. In the first auction under the BJP-led government, whatever spectrum could become reasonably available has been put up for auction and in the government's considered view it is adequate. And whatever spectrum will be subsequently available, it will be put up for auction as well after compliance with all legal requirements and processes. After the swapping and harmonisation process is over, there will be 15 MHz of spectrum vacated from defence services. Then, we will go for another round of auction but there is no fixed timeline. We have taken the market potential of the spectrum band while fixing the reserve price in the current auction. We are following a fair and transparent manner, resolving pending issues of the previous government and streamlining the spectrum allocation process.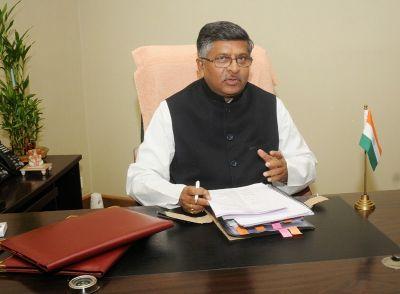 Image: Minister for IT and Communications Ravi Shankar Prasad
The telecom sector was marred by controversies during the rule of the previous government. How would you dispel the industry's fears and those of your department?
Our mandate is to work in a transparent manner, keeping two objectives in mind - consumer interest and growth of the telecom sector. Yes, there was a lot of depression in the department because of serious scams and many uncalled-for developments. Officers were reluctant to take decisions. The first initiative was to restore confidence in them - this is a new and different government and decisions will be taken now. And that's what we have been doing in the auction process as well. There were some legacy issues related to spectrum from the defence forces which have now been resolved after eight years through a collective effort of both ministries.
State-run telecom firms BSNL and MTNL are in a bad shape. What steps are you taking for their revival. Is a merger of both units still on the cards?
BSNL has been ill-treated like anything in the past. It is a hard fact that from 2008-13, there were forces working to ensure the entire expansion plan of BSNL went haywire for reasons that cannot be called fair.

BSNL did not receive adequate support for expansion.

Now, with a new person at BSNL's helm, things will change and we are closely monitoring the performance on a national as well as regional level. We are not rushing into the merger of the two. The first priority is to restore the financial health of both. For fair competition in the industry, one PSU has to be there in the field. Positive results will start showing within a year and we expect their full revival in the next two-three years. They have to become pro-active, pro-competitive and pro-consumer. The industry was expecting rules on spectrum sharing and trading to be out before the auction but there has been no word from the government on that. Spectrum sharing and trading guidelines are being finalised. There is a process. It will go to the Trai and then come back to the department. We will take a call on this and rules will be notified. This procedure has to be respected.
Source: